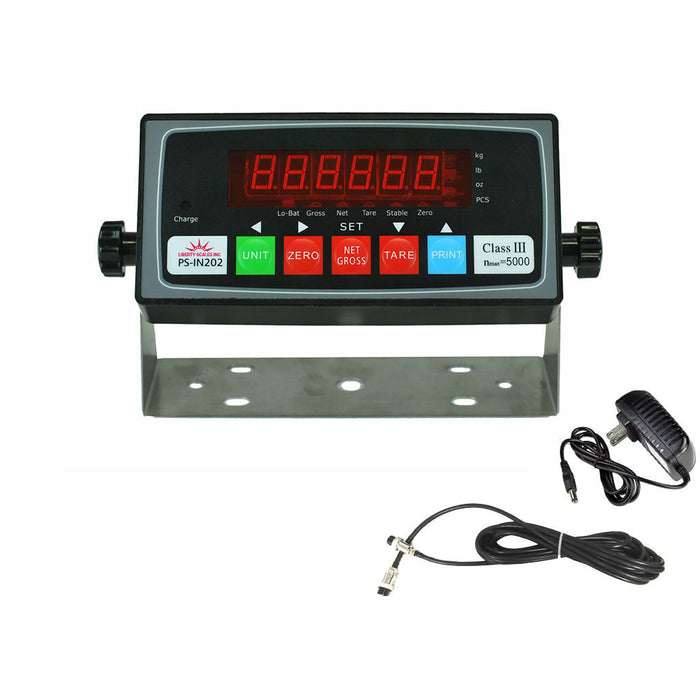 Liberty PS-IN202 LED or LCD Scale Indicator with 4+4 Cable package
Save

$51.00
Save

$51.00
Original price
$300.00
-
Original price
$300.00
Introducing the Liberty PS-IN202 LED or LCD Scale Indicator with 4+4 Cable package, the ultimate solution for accurate and reliable weight measurement.
This cutting-edge indicator is designed to meet your diverse weighing needs for commercial use or personal applications.

Key Features:
Equipped with a 0.5" LED or LCD, the Liberty PS-IN202 provides crystal-clear visibility of weight readings. Its configurable A/D conversion rate ensures precise measurements, allowing you always to obtain accurate results. With the ability to power up to 8 350-ohm load cells, this indicator can handle heavy-duty weighing tasks effortlessly.
One of the standout features of the Liberty PS-IN202 is its versatility in unit selection. This indicator covers whether you prefer pounds, kilograms, or ounces. The intuitive 5-button operation makes navigating the various functions and settings incredibly easy, ensuring a seamless user experience.
Not only does the Liberty PS-IN202 excel in performance, but it also offers convenient and practical features. The LSave mode allows you to utilize it as a remote display, making it ideal for situations where the indicator needs to be placed away from your workstation. Additionally, this indicator offers three different signal outputs for printers, scoreboards, and computers, providing seamless integration with your existing systems.
Regarding connectivity, the Liberty PS-IN202 comes with an RS-232 port for enhanced communication capabilities. It can be powered using an external AC/DC adapter or its built-in rechargeable battery, giving you flexibility in various operating environments. With its stainless steel bracket, you can mount it on a wall or use it as a table stand, depending on your preference.
Rest assured that a generous 5-year limited warranty protects your purchase. The Liberty PS-IN202 is built to last and deliver exceptional performance throughout its lifespan.
Experience the precision and reliability of the Liberty PS-IN202 LED or LCD Scale Indicator with a 4+4 Cable package.
Shipping Policy:

We offer free shipping for business addresses within the contiguous 48 states. For residential delivery, a small additional fee of $100 applies. Lift gate services are also available for easy unloading, with an optional $50 charge if no forklift is available. People from Hawaii & Alaska can Contact us for personalized Shipping Quotes. Your satisfaction is our Top Priority! Kindly provide your contact number and company name for business purchases.
Upgrade your weighing setup and make accurate measurements a breeze.