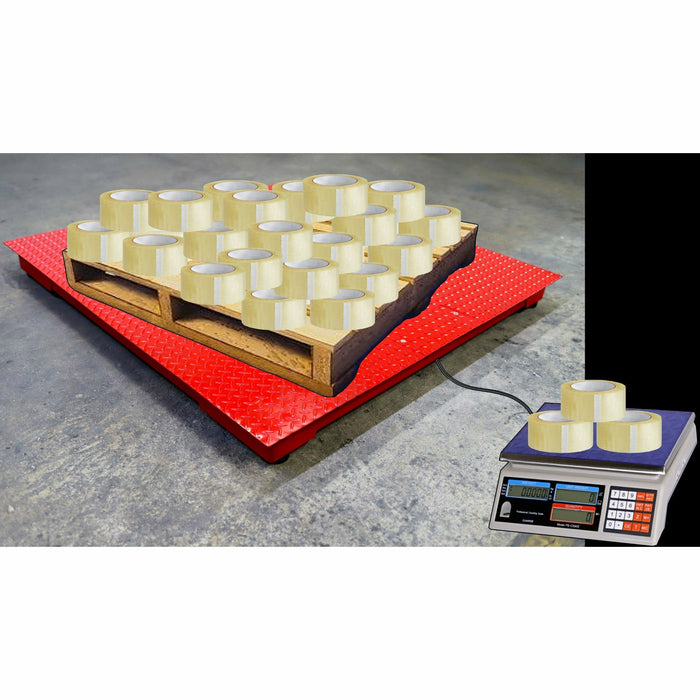 Liberty Scales LS-900-DC Dual Counting Smart Weighing System
Original price
$999.00
-
Original price
$6,199.00
Introducing the Liberty Scales LS-900-DC Dual Counting Smart Weighing System - a cutting-edge solution for precise and efficient counting.
This revolutionary system combines a robust USA-made floor scale with the LS-Dual-CT-60 Scale, enabling you to handle up to 20,000 lbs of items effortlessly while achieving unparalleled accuracy.

Designed for various industries, including aviation, part manufacturing, industrial, fabrication, CNC, postcard businesses, factories, and more, the Liberty Dual Counting Smart Weighing System is the ultimate tool for streamlining your operations and maximizing productivity.

With the LS-Dual-CT-60 Scale integrated into the system, you have the power to take samples of item weight as low as .002 lb on the counting scale. Imagine accurately counting even the tiniest screws, nuts, bolts, or any other components vital to your production process. This intelligent system does it all for you; no more time-consuming manual counting or guesswork.

The beauty of this dual counting scale lies in its simplicity. Place up to 20,000 lbs of your items (each weighing only .002 lb) onto the scale and watch as it precisely computes the number of individual parts. Say goodbye to human error and hello to effortless inventory management.

The Liberty Scales LS-900-DC Dual Counting Smart Weighing System is not just a tool; it's an investment in your business's success. By optimizing your counting processes and eliminating inaccuracies, you'll save valuable time and resources while maintaining impeccable quality control.

Choose Liberty Scales for unmatched reliability and performance. Our commitment to excellence ensures that each product is meticulously crafted with precision engineering and cutting-edge technology.

Shipping Options:
FREE SHIPPING:

 

Enjoy complimentary shipping to business addresses within the contiguous 48 states of the US.
Residential Delivery:

 

For home-based convenience, opt for residential delivery with an additional $100 shipping fee.
Lift Gate Services:

 

Need a forklift? No problem! Access the lift gate service for just $50.
Hawaii & Alaska:

 

Customers in these regions, please reach out for a customized shipping quote.
Invest in our industrial floor scales today and experience precision, reliability, and customizability. These aren't just scales; they're your partners in boosting productivity and profitability.
Invest in the Liberty Scales LS-900-DC Dual Counting Smart Weighing System today and experience unparalleled efficiency in your operations.