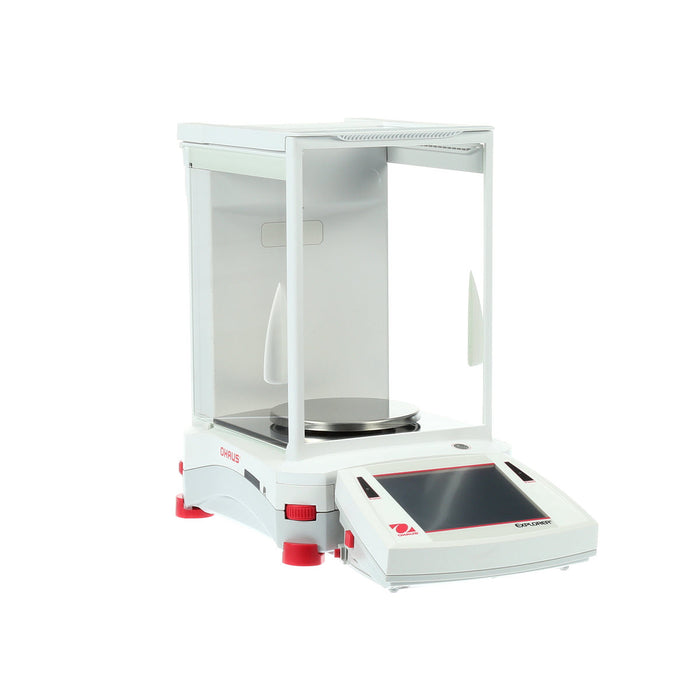 Ohaus Explorer Precision EX223/E, Stainless Steel, 220g x 1mg
Original price
$2,961.00
-
Original price
$2,961.00
Introducing the Ohaus Explorer Precision EX223/E Stainless Steel Balance, a game-changer in precision balances.
With a maximum capacity of 220g and a readability of 1mg, this balance is designed to deliver unparalleled accuracy and durability for laboratory and industrial environments.


The Ohaus Explorer Series combines modern features and design elements to provide unmatched functionality. Its precision-machined weighing cell, made from a solid metal block, ensures precise measurements every time. This makes it the ideal choice for even the most complex laboratory tasks.

One of the standout features of the Explorer Precision EX223/E is its user-friendly interface. The detachable terminal boasts a large color touchscreen for effortless navigation and programming. With programmable IR sensors and a frameless draftshield, this balance is easy and convenient.

Designed with versatility in mind, the Ohaus Explorer Precision EX223/E offers a wide range of applications. Whether it weighs, parts counting, check weighing, or animal weighing, this balance can handle it all. Additionally, it offers functions such as differential weighing, density determination, peak hold, and statistics, making it suitable for various scientific applications.

Equipped with advanced communication capabilities, this balance allows for seamless data transfer. It comes with RS232 and USB ports as standard, with the option to add an RS232/Ethernet connection if needed.

Built to last, the Ohaus Explorer Precision EX223/E features a sturdy metal base, ABS top housing, and a stainless steel pan. The glass draft shield with top-mounted side doors and flip/sliding top door (for 1mg models) ensures optimal protection and accuracy during weighing operations.

With selectable environmental filters, auto tare function, user-definable calibration points, and software lockout options, this balance offers a high level of customization to suit your specific needs. Its sleek design also includes touchless sensors for convenience and an illuminated up-front level indicator.

In conclusion, the Ohaus Explorer Precision EX223/E Stainless Steel Balance raises the bar regarding precision and functionality. Its exceptional accuracy, user-friendly interface, and robust construction make it a reliable choice for laboratory professionals.
Choose the Ohaus Explorer Precision EX223/E for all your weighing needs and experience the difference it can make in your work.