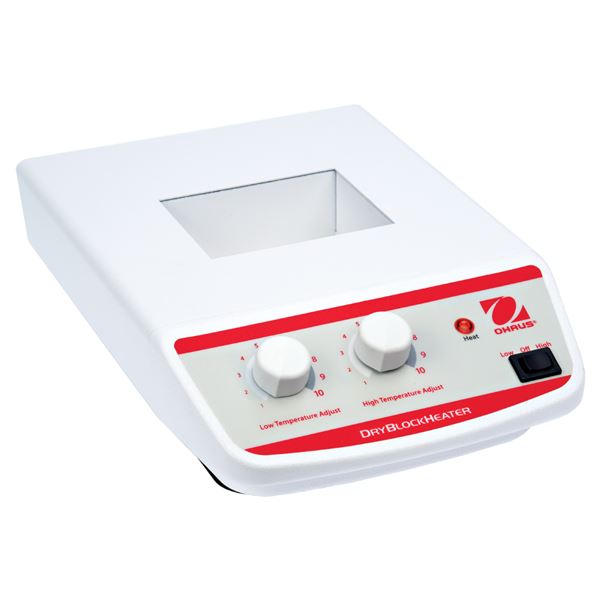 Ohaus HB1AL Analog Dry Block Heater, 1 Block, 120V
Original price
$408.00
-
Original price
$408.00
Introducing the Ohaus HB1AL Analog Dry Block Heater, a reliable and versatile lab companion for all your temperature needs.
Designed to deliver exceptional temperature uniformity and stability, this block heater ensures accurate and precise temperature control every time.

Whether you're incubating cultures, activating enzymes, performing immunoassays, or conducting nucleic acid denaturation, the Ohaus HB1AL is the perfect solution. With its robust construction and advanced features, this block heater is built to handle a wide range of applications in the lab.

Featuring an LED display for digital models and dual-adjustment knobs with dial markings for analog models, the Ohaus HB1AL provides clear and easy-to-read temperature information. The digital models come with touchpad controls that allow precise temperature and time settings, while the analog models offer dual temperature adjustment knobs for quick and hassle-free operation.

To ensure temperature accuracy, the digital models include a unique single-point calibration feature. This lets you match the block heater's display to a known external temperature standard for three temperature setpoints. With this feature, you can have complete confidence in the accuracy of your temperature measurements.

Constructed with a painted steel housing and a support rod holder with a locking knob, the Ohaus HB1AL is built to withstand everyday use in the lab. The digital models also have additional design features, such as a touchpad control and audible alarm to enhance user convenience.

With its detachable 3-wire cord and plug, the Ohaus HB1AL offers easy setup and operation. Please note that analog models require an external thermometer or temperature device for temperature setpoint.

In summary, the Ohaus HB1AL Analog Dry Block Heater is a dependable and efficient tool for any laboratory setting. Its exceptional temperature uniformity, stability, and user-friendly features make it an essential component for accurate and precise temperature control.
Invest in the Ohaus HB1AL and experience unparalleled performance in your lab experiments.