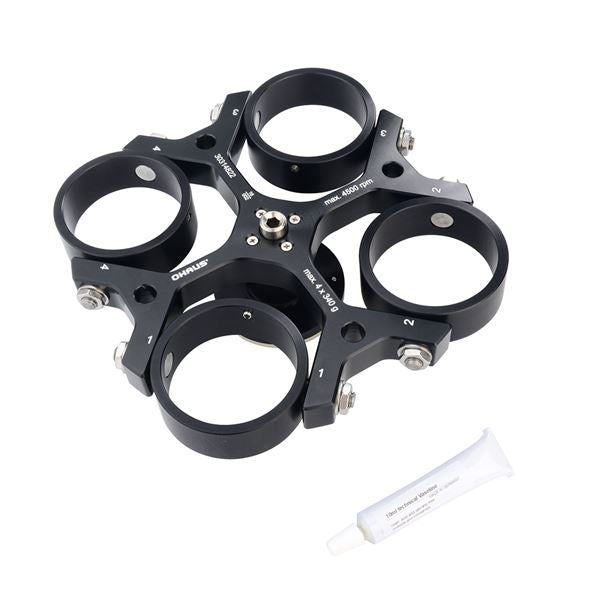 Ohaus R-S4x100/4MI Frontier Rotors Centrifuge, 4 x 100 ml, 3,350 g
Original price
$1,620.00
-
Original price
$1,620.00
Introducing the Ohaus R-S4x100/4MI Frontier Rotors Centrifuge, a powerful and versatile centrifugation accessory designed to meet all your sample preparation needs.
With a maximum capacity of 3,350 g and a readability of 4 x 100 ml, this rotor is perfect for both basic and high-performance applications.

The Frontier rotors are specifically engineered to provide unmatched usability. Installing or removing them from your centrifuge is a breeze, thanks to their innovative design. In just a few quick and simple steps, you'll have the rotor securely in place or ready for removal. This user-friendly feature ensures that you can focus on your research without hassle.

Durability is vital in laboratory equipment, and the Frontier rotors excel. Constructed with high-quality materials, they can withstand even the most demanding workflows. From autoclave sterilization to sub-zero temperature environments, these rotors will maintain their performance and reliability.

Whether you're working with aluminum or polypropylene materials, the Frontier rotors provide a perfect fit. Their versatility lets you choose the ideal rotor for your specific application, ensuring accurate and efficient results every time.

Incorporating the Ohaus R-S4x100/4MI Frontier Rotors Centrifuge into your laboratory setup will enhance your centrifugation process. Its easy installation, durability, and compatibility with various materials make it a reliable choice for researchers and scientists.

Upgrade your laboratory equipment with this exceptional centrifugation accessory from Ohaus. Experience the convenience, reliability, and efficiency that the Frontier rotors bring to your sample preparation.
Invest in quality and precision with the Ohaus R-S4x100/4MI Frontier Rotors Centrifuge today. Your research deserves nothing less.