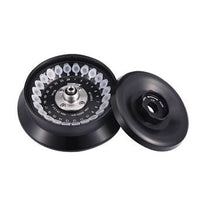 Ohaus R-A24x2/15MS Frontier Rotors Centrifuge, 24 x 1.5 /2.0 ml, 21,953 g
Original price
$1,180.00
-
Original price
$1,180.00
Introducing the Ohaus R-A24x2/15MS Frontier Rotors Centrifuge, a high-performance solution designed to meet all your sample preparation needs.
With its impressive maximum capacity of 21,953 g and readability of 24 x 1.5 /2.0 ml, this centrifuge is the perfect companion for any laboratory or research facility.

Featuring a range of rotors, the Frontier Centrifuge allows you to customize and match capacities according to your specific requirements. From essential to high-performance applications, this versatile centrifuge offers the flexibility for precise and efficient sample preparation.

One of the standout features of the Frontier rotors is their ease of use. With a simple and intuitive installation process, they can be effortlessly attached or removed in just a few quick steps. This means that users can conveniently access their samples without hassle or time-consuming procedures.

Built to withstand demanding workflows, the Frontier rotors are constructed using high-quality materials such as aluminum or polypropylene. This ensures their durability and longevity, even when subjected to autoclave sterilization or sub-zero temperatures. You can rely on these sturdy rotors to keep up with your most rigorous experiments and research projects.

Whether working in a laboratory, research facility, or any other scientific setting, the Ohaus R-A24x2/15MS Frontier Rotors Centrifuge is the ideal centrifugation accessory to enhance your workflow. Its user-friendly design, combined with its exceptional performance and durability, makes it a must-have tool for all your sample preparation needs.

Invest in the Ohaus R-A24x2/15MS Frontier Rotors Centrifuge and experience unparalleled convenience, efficiency, and reliability in your laboratory balances.