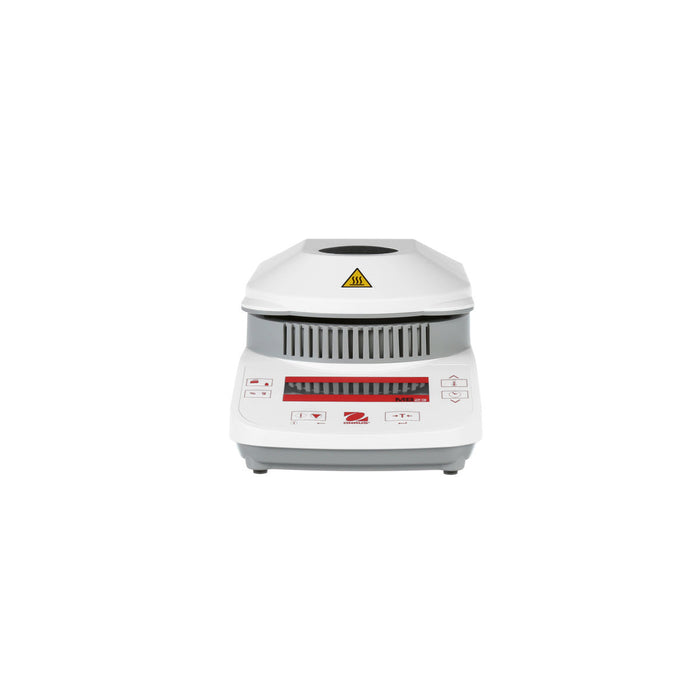 Ohaus, Moisture Analyzers, MB27, 90 g, 1 mg/0.01%
Original price
$3,709.00
-
Original price
$3,709.00
Introducing the Ohaus Moisture Analyzer MB27, a cutting-edge instrument that delivers accurate and reliable results for your moisture determination needs.
With a maximum capacity of 90g and readability of 1mg, this analyzer is perfect for many applications.

The MB27 Moisture Analyzer boasts an impressive accuracy of 0.01% or 0.001g, ensuring precise measurements every time. Thanks to its halogen heating technology and dual weight-temperature calibration, you can expect fast and dependable results in no time.

Designed with user convenience, this analyzer features a user-friendly touch-button interface that makes operation a breeze. Whether you're a seasoned professional or new to moisture analysis, you'll find this instrument intuitive and easy to use.

The backlit liquid crystal display (LCD) provides clear visibility, even in low-light conditions, ensuring you can easily read and interpret your results. Plus, the included power cord and RS232 communication capability allow for seamless integration into your laboratory setup.

Built to last, the MB27 Moisture Analyzer features a durable ABS housing, metal pan support, and metal pan handler. The in-use cover protects the instrument from dust and debris when not in use, extending its lifespan.

With three shut-off criteria (manual, timed, or auto), a standard heating profile, and a heating range of 50° to 160°C (in 5°C increments), this analyzer offers flexibility and customization to suit your specific requirements.

In summary, the Ohaus Moisture Analyzer MB27 is a high-performance instrument that combines precision, reliability, and user-friendly design. Whether you need to determine percent moisture or solid content or weigh materials accurately, this analyzer is the perfect choice.
Trust in the quality and expertise of Ohaus to meet your laboratory needs.