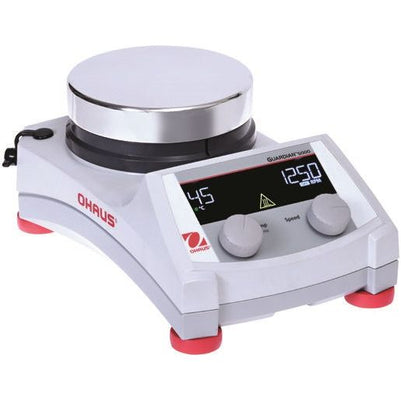 Digital Hotplate Stirrers Guardian 3000 e-G31HSRDS 230V
Original price
$410.00
-
Original price
$410.00
Introducing the Digital Hotplate Stirrers Guardian 3000 e-G31HSRDS 230V, a cutting-edge laboratory essential designed to revolutionize your scientific experiments.
With its advanced features and unparalleled safety measures, this hotplate stirrer is a game-changer.

The Guardian 3000 e-G31HSRDS model is equipped with SafetyHeat™, an industry-leading early detection system that goes above and beyond to protect your lab. Utilizing two independent safety controls, this system meticulously monitors the electronics and promptly halts heating before an overtemperature condition can occur. You can have peace of mind knowing that your experiments are in safe hands.

This hotplate stirrer boasts precise stirring capabilities ranging from 60 to 1600 rpm, thanks to its powerful motor, strong magnet, and software controlled ramp rate. No matter how dense your applications may be, this device ensures a secure magnetic coupling for efficient and reliable performance.

Monitoring your experiments has always been challenging with the bright LCD of the Guardian 3000 e-G31HSRDS. Featuring large temperature and speed settings, intuitive icons, and a prominent hot top indicator, this display allows you to keep track of performance from across the lab effortlessly. Say goodbye to guesswork and hello to convenience.

The versatility of this hotplate stirrer is simply unmatched. It finds its place in various applications such as boiling water, water/oil bath preparation, sample and solution preparation, dissolving buffers and reagents, preparing media, and concentrating samples. With its backlit LCD showcasing temperature and speed information, green indicator lights for heating and stirring functions, and a single-point calibration icon for accuracy assurance, this device has it all.

Built with durability, the Guardian 3000 e-G31HSRDS features SmartHousing™ that stays cool to the touch and is resistant to chemicals. Its IP21 Ingress Protection, polycarbonate front panel, control knobs, and built-in support rod holder add to its robust construction. Cleaning is a breeze with the easy-to-clean ceramic or aluminum tops.

To top it all off, this hotplate stirrer includes hot top indicator lights and an audible alarm for added safety measures. In the event of a malfunction, the SafetyHeat™ protection system promptly shuts off the heater, ensuring a secure working environment. Plus, the temperature calibration feature allows you to set three probes and three plate setpoints for precise experimentation.

Upgrade your lab with the Digital Hotplate Stirrers Guardian 3000 e-G31HSRDS 230V and experience unrivaled efficiency, safety, and accuracy.
Your scientific advancements await.