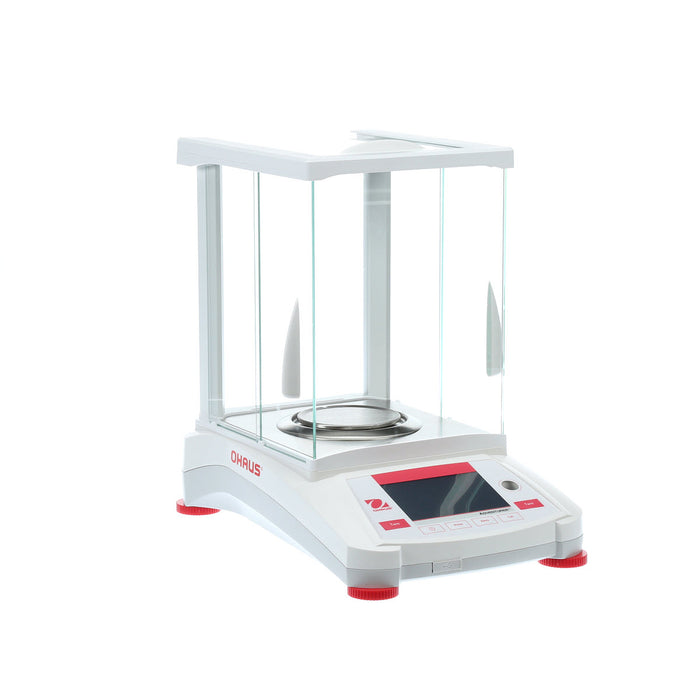 Ohaus Adventurer Analytical Electronic Balance AX224 | 220 g x 0.1 mg
Original price
$4,239.00
-
Original price
$4,239.00
Experience the perfect balance between innovation and simplicity with the Ohaus Adventurer Analytical Electronic Balance AX224.
Designed to meet a range of weighing and measurement needs, this intuitive balance offers various features that make it the most complete.
Boasting a vibrant color touchscreen and an icon-based user interface, the Adventurer is incredibly easy to configure and use. Whether you're a seasoned professional or a novice in the lab, this balance ensures a seamless weighing experience. The ergonomic design further enhances user comfort, allowing you to focus on your work without distractions.
Versatility is at the heart of the Adventurer. With specialized weighing modes, multiple connectivity options, and AutoCal™ functionality, this balance adapts to various applications effortlessly. Whether conducting scientific research, working in an academic institution, or operating in an industrial environment, the Adventurer covers you.
Durability is key regarding laboratory equipment, and the Adventurer doesn't disappoint. Its sturdy construction, large weighing surfaces, and space-saving draft-shield design make it suitable for rigorous use in labs. The total housing in-use cover ensures protection from dust and other external factors, extending the lifespan of this reliable instrument.
The 4.3" full-color VGA graphic touchscreen provides a straightforward and user-friendly interface for all your weighing needs. You can easily adjust the brightness according to your preference for optimal visibility. Plus, with RS232, USB Host, and USB Device connectivity options, along with GLP/GMP data output featuring a real-time clock, data management becomes effortless.
The Ohaus Adventurer Analytical Electronic Balance AX224 is built to withstand the demands of daily lab activities. Its metal base, ABS top housing, stainless steel pan, and glass draft shield with two-piece top-mounted side doors ensure long-lasting performance. The illuminated up-front level indicator and integral weight below the hook make it convenient.
Discover the precision and convenience of the Ohaus Adventurer Analytical Electronic Balance AX224. Whether conducting scientific experiments, formulating pharmaceuticals, or working in a research facility, this balance is your perfect partner in achieving accurate and reliable results.
Choose Ohaus for exceptional quality and performance.