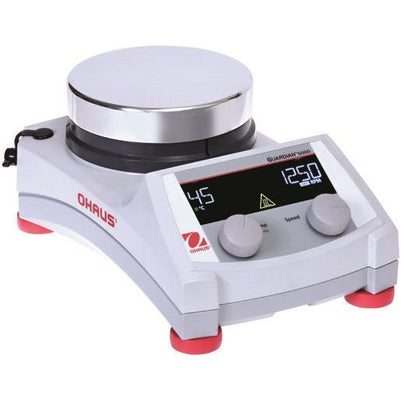 Analog Hotplate Stirrers Guardian 2000 E-G21ST04C 230V 50Hz
Original price
$260.00
-
Original price
$260.00
Introducing the Analog Hotplate Stirrers Guardian 2000 E-G21ST04C 230V 50Hz, a powerful and reliable laboratory tool that combines stirring and heating capabilities at an unbeatable value.
With model number G21ST04C, this hotplate stirrer is designed to meet all your everyday heating and stirring needs in the lab.

Featuring robust metal housing, this hotplate stirrer is built to withstand even the harshest conditions in the lab, ensuring durability and longevity. The spill-resistant design of the housing adds an extra layer of protection, making it ideal for busy lab environments.

The Analog Hotplate Stirrers Guardian 2000 E-G21ST04C is equipped with a smooth ceramic top plate that is not only chemical-resistant but also easy to clean. Say goodbye to tedious cleanup tasks after each experiment. This hotplate stirrer makes maintenance a breeze.

Safety is paramount, and this hotplate stirrer takes it seriously. The prominent hot top indicator light is a visual reminder, illuminating when the heater exceeds 40°C. With this feature, you can perform your heating applications with peace of mind, knowing you are protected.

Boiling liquids, preparing samples and solutions, dissolving buffers and reagents, preparing media, and concentrating samples are just a few applications where this hotplate stirrer excels. The simple knob control allows you to adjust the stirring speed to 1600 rpm and set the temperature to an impressive 500°C (ceramic top) or 380°C (ceramic-coated stainless steel top).

The Analog Hotplate Stirrers Guardian 2000 E-G21ST04C has a power cord for easy setup and convenience. For stirring models, a PTFE-coated stir bar is included to enhance mixing performance.

With its durable construction, user-friendly design features, and outstanding performance, this hotplate stirrer is a must-have for any lab. Trust in its reliability, efficiency, and safety to elevate your scientific experiments and research.
Choose the Analog Hotplate Stirrers Guardian 2000 E-G21ST04C for all your heating and stirring needs.