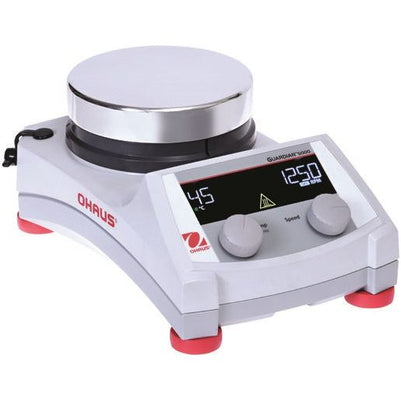 Analog Hotplate Stirrers Guardian 2000 E-G21ST04C 115V 60Hz
Original price
$260.00
-
Original price
$260.00
Introducing the Analog Hotplate Stirrers Guardian 2000 E-G21ST04C 115V 60Hz, a powerful and reliable heating and stirring solution for your laboratory needs.
With its economical price and remarkable performance, this hotplate stirrer is designed to meet the demands of everyday heating and stirring tasks.

Featuring a robust metal housing, this hotplate stirrer ensures durability even in harsh laboratory conditions. Its spill-resistant design allows for worry-free operation, while the smooth and chemical-resistant ceramic top plate simplifies the cleaning process, making it perfect for regular use.

Safety is paramount, and that's why this hotplate stirrer comes equipped with a prominent hot top indicator light. This helpful feature illuminates when the heater exceeds 40°C, providing a clear visual indication to keep the user safe during all heating applications.

Whether you need to boil liquids, prepare solutions, dissolve buffers and reagents, or concentrate samples, this hotplate stirrer is up to the task. With its simple knob control, you can easily adjust the stirring speed up to 1600 rpm and set the temperature to an impressive 500°C (ceramic top) or 380°C (ceramic-coated stainless steel top). The package includes a power cord for convenient operation, and stirring models come with a PTFE-coated stir bar.

Constructed with longevity in mind, this hotplate stirrer is built to last. Its durable metal housing and PET front panel ensure reliability over time. The unit also features an ON/OFF switch for heater disconnect and a built-in support rod holder for convenience.

With its green indicator lights that illuminate when the unit is heating and stirring, you can easily monitor the status of your experiments. The hot top indicator light provides an extra layer of protection for the user, ensuring a safe working environment.

Upgrade your laboratory setup with the Analog Hotplate Stirrers Guardian 2000 E-G21ST04C 115V 60Hz.
Experience powerful stirring and fast heating at an affordable price, all while enjoying the peace of mind that comes with using a high-quality product designed to withstand the rigors of daily lab work.