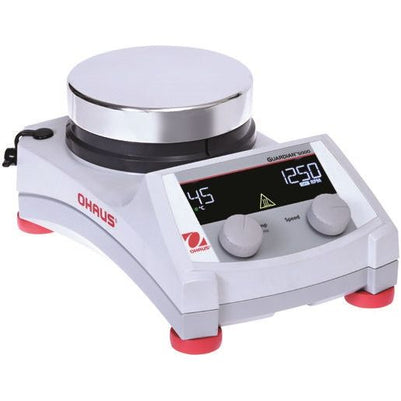 Analog Hotplate Stirrers Guardian 2000 E-G21HSRDS 230V 50Hz
Original price
$385.00
-
Original price
$385.00
Introducing the Analog Hotplate Stirrers Guardian 2000 E-G21HSRDS 230V 50Hz, a powerful and versatile lab instrument that combines efficient stirring and rapid heating at an unbeatable price.
With its easy-to-use knob control, this hotplate stirrer is the perfect solution for all your everyday heating and stirring needs.

The Guardian 2000 E-G21HSRDS boasts a robust metal housing built to withstand the most challenging conditions in the lab. Its spill-resistant design ensures durability for long-term use. The ceramic top plate is not only resistant to chemicals but also provides a smooth surface for effortless cleaning, making maintenance a breeze.

Safety is paramount, which is why this hotplate stirrer features a prominent hot top indicator light. This light illuminates when the heater reaches temperatures above 40°C, ensuring the user's safety during all heating applications. You can have peace of mind knowing that you can work with confidence and focus on your experiments.

This versatile instrument is applied in various laboratory tasks, including boiling liquids, basic sample and solution preparation, dissolving buffers and reagents, preparing media, and concentrating samples. It offers a stirring speed of up to 1600 rpm and can reach temperatures up to 500°C (ceramic top) or 380°C (ceramic-coated stainless steel top). The package includes a power cord and a PTFE-coated stir bar for convenience.

Featuring an intuitive design, the Analog Hotplate Stirrers Guardian 2000 E-G21HSRDS incorporates user-friendly control knobs for easy operation. The unit also has a built-in support rod holder for various lab setups. The durable metal housing, along with the PET front panel and control knobs, ensures reliability and longevity.

Whether you are a scientist, researcher, or student, the Analog Hotplate Stirrers Guardian 2000 E-G21HSRDS 230V 50Hz is a must-have lab equipment. Experience the power of efficient stirring and rapid heating, all backed by the reliability and safety features you expect from a high-quality instrument.
Upgrade your lab today with this exceptional hotplate stirrer.