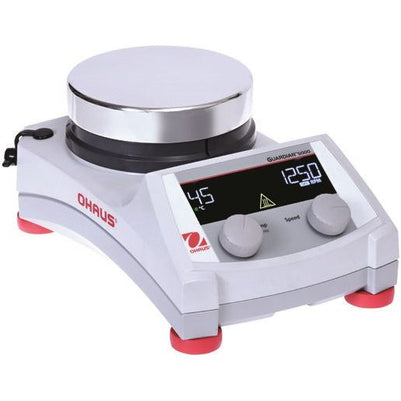 Analog Hotplate Stirrers Guardian 2000 E-G21HS07C 230V 50Hz
Original price
$420.00
-
Original price
$420.00
Introducing the Analog Hotplate Stirrers Guardian 2000 E-G21HS07C 230V 50Hz, a powerful and efficient solution for all your heating and stirring needs in the lab.
With model number G21HS07C, this hotplate stirrer offers a winning combination of high performance and affordability.

Experience rapid heating and vigorous stirring with ease, thanks to its user-friendly knob control. This device allows you to safely heat up to 500°C and stir up to 15 liters of liquid effortlessly. Whether you're boiling liquids, preparing solutions, dissolving buffers, or concentrating samples, this hotplate stirrer is your reliable companion.

Built to withstand the demanding conditions of the lab, its rugged metal housing ensures durability for a long lifespan. The spill-resistant design prevents mishaps, while the smooth ceramic top plate guarantees easy cleanup after each use.

Safety is paramount, which is why this hotplate stirrer features a prominent hot top indicator light. This light illuminates when the heater reaches temperatures above 40°C, ensuring the utmost safety during all heating applications.

With its sleek design and impeccable functionality, this hotplate stirrer is perfect for various lab applications. The green indicator lights provide a clear visual cue when the unit is heating and stirring, making the operation effortless.

Constructed with precision and attention to detail, this hotplate stirrer boasts a PET front panel and control knobs for added convenience. The built-in support rod holder allows for easy setup, while choosing between resin, ceramic, or ceramic-coated stainless steel tops ensures versatility in your experiments.

Invest in the Analog Hotplate Stirrers Guardian 2000 E-G21HS07C 230V 50Hz and elevate your lab experience.
Trust in its exceptional performance and robust design to meet all your heating and stirring requirements.