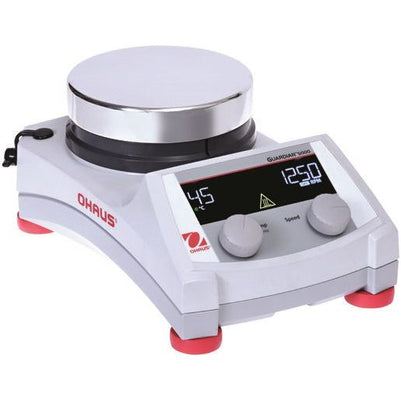 Analog Hotplate Stirrers Guardian 2000 E-G21HS04C 230V 50Hz
Original price
$385.00
-
Original price
$385.00
Introducing the Analog Hotplate Stirrers Guardian 2000 E-G21HS04C 230V 50Hz, a powerful and reliable solution for all your heating and stirring needs in the lab.
This model, G21HS04C, offers exceptional performance at an economical price, making it the perfect choice for both small-scale experiments and large-scale applications.

One of the standout features of this hotplate stirrer is its ability to safely heat up to an impressive 500°C while simultaneously stirring up to 15L of liquid. With a simple knob control, you have complete control over the stirring speed, which can reach up to 1600 rpm. Whether boiling liquids, preparing samples, dissolving buffers, or concentrating samples, this hotplate stirrer is up to the task.

Durability is vital in lab equipment, and this hotplate stirrer is designed to last. The rugged metal housing ensures longevity even under harsh conditions, while the spill-resistant design prevents any mishaps that may occur during your experiments. The ceramic top plate not only provides excellent heat distribution but also makes cleanup a breeze.

Safety is paramount in any lab setting, and this hotplate stirrer goes above and beyond to ensure user protection. The prominent hot top indicator light illuminates when the heater exceeds 40°C, alerting you to potential hazards. This feature gives you peace of mind during all heating applications.

With its sleek design and user-friendly operation, the Analog Hotplate Stirrers Guardian 2000 E-G21HS04C combines functionality with convenience. The green indicator lights indicate when the unit is heating and stirring, allowing for easy monitoring of your experiments.

Whether you are a seasoned researcher or just starting in the lab, this hotplate stirrer is a must-have tool. With its powerful performance, durability, and safety features, it will become an indispensable part of your lab equipment collection.
Invest in the Analog Hotplate Stirrers Guardian 2000 E-G21HS04C and experience efficient heating and stirring like never before.