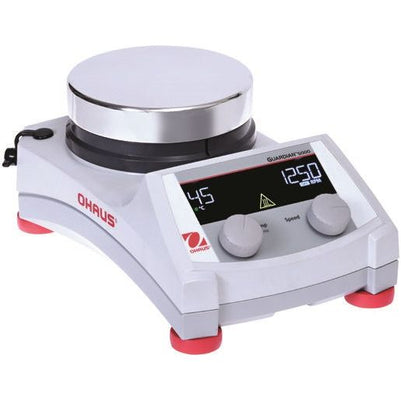 Analog Hotplate Stirrers Guardian 2000 E-G21HPRDS 230V
Original price
$275.00
-
Original price
$275.00
Introducing the Analog Hotplate Stirrers Guardian 2000 E-G21HPRDS 230V, a robust and reliable solution for all your heating and stirring needs in the lab.
With its exceptional features and durable construction, this hotplate stirrer is designed to make everyday tasks more accessible and more efficient.

The Guardian 2000 E-G21HPRDS boasts a robust metal housing that can withstand even the harshest lab conditions, ensuring a long lifetime of reliable performance. The spill-resistant design adds an extra layer of protection, making cleanup a breeze. The smooth ceramic top plate is not only chemical-resistant but also incredibly easy to clean, saving you valuable time and effort.

Safety is paramount when it comes to heating applications, and that's why the Guardian 2000 E-G21HPRDS is equipped with a prominent hot top indicator light. This light illuminates when the heater reaches temperatures above 40°C, providing a clear visual indication to keep you safe during operation.

Whether boiling liquids, preparing solutions, or concentrating samples, this hotplate stirrer has got you covered. The simple knob control allows for easy adjustment of both stirring speed and temperature, with stirring speeds reaching up to 1600 rpm and temperatures up to 500°C (ceramic top) or 380°C (ceramic-coated stainless steel top). Plus, the package includes a PTFE-coated stir bar for added convenience.

With its user-friendly design and advanced features, the Analog Hotplate Stirrers Guardian 2000 E-G21HPRDS 230V is the perfect addition to any lab setting.
So why wait? Experience powerful stirring and fast heating at an economical price today.