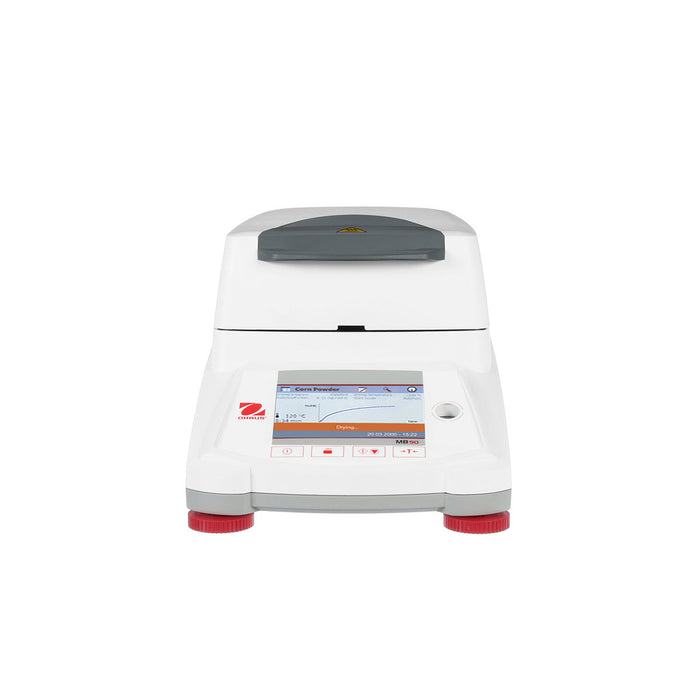 Ohaus, Moisture Analyzers, MB90, 90 g, 1 mg/0.01% - 115V
Original price
$4,971.00
-
Original price
$4,971.00
Introducing the Ohaus Moisture Analyzer MB90 - your ultimate companion for precise moisture determination.
With a maximum capacity of 90g and a readability of 1mg, this cutting-edge device guarantees accurate results every time.

Featuring a 90mm pan size and halogen heating technology, the MB90 ensures swift and efficient operation, saving you valuable time and effort. Say goodbye to lengthy waiting periods and hello to faster results.

Navigating the device's features is a breeze, thanks to its intuitive touchscreen menu. Offering step-by-step guidance for various applications, the MB90 simplifies the moisture determination process like never before. No more confusion or guesswork - just seamless operation at your fingertips.

Maintenance is a breeze with the MB90's tool-free cleaning feature. Keeping your analyzer in top-notch condition has always been challenging. Spend less time on maintenance and more time on what truly matters - obtaining accurate moisture readings.

The Ohaus Moisture Analyzer MB90 is designed to cater to a wide range of applications. Whether you need to determine percent moisture, percent moisture regain, percent solid, or weigh items, this versatile device has covered you.

With its 4.3" TFT color touchscreen display, operating the MB90 is as convenient as possible. Clear and vibrant visuals make reading and understanding measurements effortless.

Connectivity is not an issue either. The analyzer has RS232 with GLP/GMP data output, USB Host, and USB Device capabilities. Seamlessly transfer data to other devices or systems without any hassle.

Durability meets functionality in the construction of the MB90. Its metal base ensures stability, while the ABS top housing guarantees longevity. The halogen heat source stainless steel pan support and handler are built to withstand heavy usage. Plus, the in-use cover keeps your analyzer protected when not in use.

The Ohaus Moisture Analyzer MB90 offers a range of design features that enhance its usability. Choose from three shut-off criteria - manual, timed, or auto. Select between two drying profiles - standard and fast. Store up to two methods for quick access. With a heating temperature range of 40°C to 200°C in 1°C increments, you have complete control over your analysis. And with support for 14 operational languages, language barriers are a thing of the past.

Invest in the Ohaus Moisture Analyzer MB90 and experience unparalleled accuracy, efficiency, and convenience in your moisture determination process.
Don't settle for anything less than perfection - choose the MB90 today.