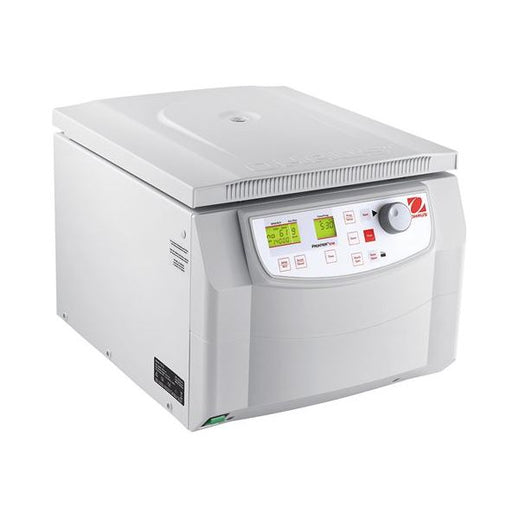 Ohaus FC5718 Frontier 5000 Series Multi Pro Centrifuge, 4 x 100 ml, 23,542 g - 120V
Original price
$5,709.00
-
Original price
$5,709.00
Introducing the Ohaus FC5718 Frontier 5000 Series Multi Pro Centrifuge, the ultimate solution for high-speed centrifugation.
With a maximum capacity of 23,542 g and a readability of 4 x 100 ml, this multi-purpose centrifuge is designed to meet all your lab workflow needs.

Featuring an intuitive design, the FC5718 allows for easy access to parameter settings, ensuring quick rotation between applications. Whether performing centrifugal separation, protein or nucleic acid separation, cell pelleting, or sample preparation, this centrifuge has covered you.

German engineering and high-quality components drive the performance of the FC5718. Built with chemical-resistant stainless steel, this centrifuge is designed to withstand the rigors of lab use, ensuring durability and reliability.

Equipped with automatic rotor recognition and a backlit LCD, this centrifuge offers convenience and ease of use. You'll have complete control over your samples with ten acceleration and deceleration rates, a selection of running time from 10 seconds to 99 hours 59 minutes, or continuous operation.

The FC5718 also boasts a lid-locking system, over-speed protection, and dual imbalance sensing for added safety during operation. The CFC-free refrigeration system keeps your samples at the desired temperature (refrigerated models), while the sample temperature indication provides valuable information.

With its corrosion-resistant stainless steel chamber and Polycarbonate/ABS plastic lid construction, the FC5718 is built to last. This centrifuge is not only reliable but also easy to clean and maintain.

Unlock the full potential of your lab with the Ohaus FC5718 Frontier 5000 Series Multi Pro Centrifuge.
Experience exceptional performance and efficiency in every spin. Order yours today and revolutionize your lab workflow.