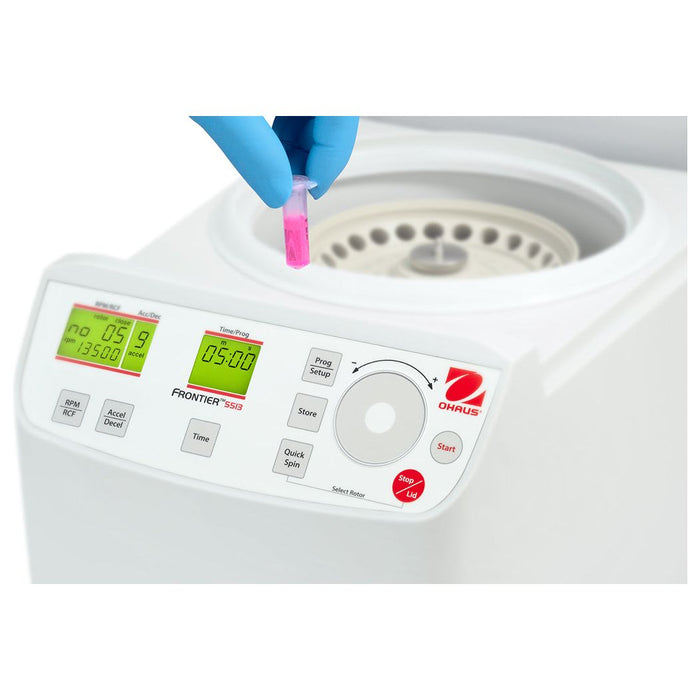 Ohaus Frontier Micro 5000, FC5513, 24 x 1.5 / 2.0 ml, 17,317 g – 120V
Original price
$2,030.00
-
Original price
$2,030.00
Introducing the Ohaus Frontier Micro 5000, FC5513, 24 x 1.5 / 2.0 ml, 17,317 g – 120V centrifuge, the perfect solution for all your laboratory needs.
With its impressive maximum capacity of 17,317 g and readability of 24 x 1.5 / 2.0 ml, this centrifuge is designed to deliver exceptional performance and precision.

Equipped with a range of features, the Frontier Micro 5000 is compatible with various rotors, including those suitable for 1.5/2.0ml or 5ml microtubes, spin columns, PCR strips, cryo tubes, and hematocrit capillaries. This versatility enables high throughput and offers biocontainment options for various applications.

Operating the Frontier Micro 5000 is a breeze thanks to its user-friendly interface. With convenient controls placed on an intuitive LCD with backlighting, users can easily navigate the settings and make adjustments effortlessly – even while wearing gloves.

One of the standout features of the Frontier Micro 5000 is its compact design. Despite its robust functionality, this centrifuge has been carefully engineered to save valuable space on your lab bench. Now you can maximize your workspace without compromising on performance.

Built with a brushless, quiet motor, the Frontier Micro 5000 ensures smooth and quiet operation while maintaining its small footprint. Additionally, it boasts a range of design features, such as high sample throughput, multi-safety control, and a personal program function for added convenience.

Whether you're working in research labs, clinical settings, or other scientific environments, the Ohaus Frontier Micro 5000 delivers exceptional performance and reliability.
Invest in this portable scale today and experience the difference it can make in your lab workflow.