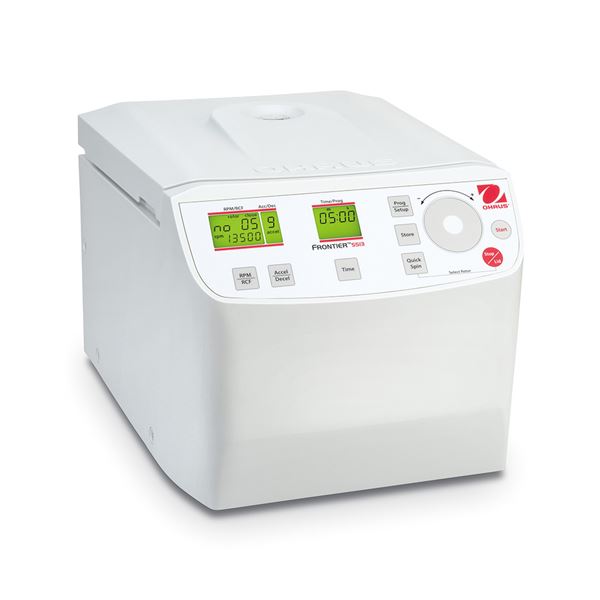 Ohaus Frontier 5000 Series Multi, FC5707+R05, 8 x 15 ml, 4,445 g, 100 - 230V
Original price
$1,954.00
-
Original price
$1,954.00
Introducing the Ohaus Frontier 5000 Series Multi, FC5707+R05, 8 x 15 ml, 4,445 g, 100 - 230V centrifuge - a powerful and versatile laboratory instrument designed to streamline your centrifugation process.


With its user-friendly interface and intuitive controls, the Frontier™ Multi Centrifuge ensures easy operation, even when wearing gloves. No more struggling to navigate complicated settings or wasting time figuring out how to use it. This centrifuge puts responsive operation right at your fingertips.

One of the standout features of the Frontier™ Multi Centrifuge is its adaptability. It can accommodate standard 50ml and 15ml tubes, including common blood tubes. And if you need to work with even smaller sizes, add accessories, and the rotors can be adjusted for tubes as small as 1.5ml. This flexibility makes it an ideal choice for various applications in various industries.

Despite its incredible functionality, this centrifuge only occupies a little space on your lab bench. With its compact design and small footprint, the Frontier™ Multi Centrifuge saves valuable space without compromising performance.

Equipped with an LCD with a backlight, you can easily monitor and track your centrifugation process. The two-line display provides clear and concise information so you can stay informed every step of the way.

The Frontier™ Multi Centrifuge features a brushless quiet motor, ensuring smooth and quiet operation. Say goodbye to noisy distractions in the lab and enjoy a peaceful working environment.

Installation is a breeze with this centrifuge. Designed for easy installation, you can quickly set it up and get started on your experiments right away.

In summary, the Ohaus Frontier 5000 Series Multi, FC5707+R05, 8 x 15 ml, 4,445 g, 100 - 230V centrifuge is a reliable and efficient laboratory instrument that combines ease of use, adaptability, and space-saving design.
Whether you're working in a research facility, medical lab, or any other industry that requires centrifugation, this versatile instrument will meet your needs with precision and reliability.