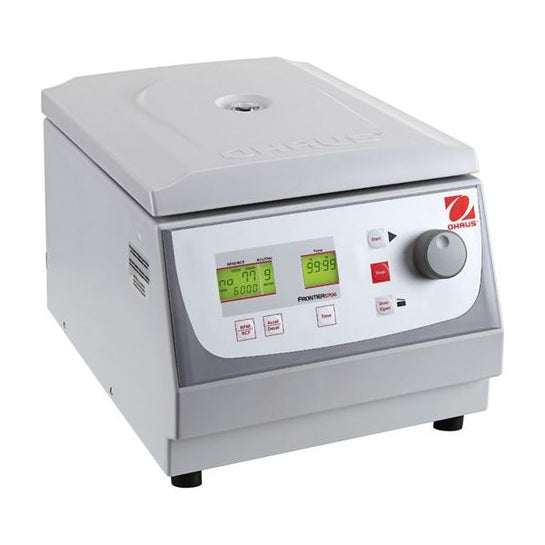 Ohaus Frontier 5000 Series Multi, FC5706, 6 x 50 ml, 4,427 g, 120V
Original price
$2,376.00
-
Original price
$2,376.00
Introducing the Ohaus Frontier 5000 Series Multi, FC5706, 6 x 50 ml, 4,427 g, 120V - a powerful and versatile centrifuge designed to meet all your laboratory needs.
With its impressive maximum capacity of 4,427 g and readability of 6 x 50 ml, this centrifuge is a must-have for any lab looking to optimize its workflow.

One of the standout features of the Frontier Multi Centrifuge is its user-friendly interface. Designed for ease of operation, this centrifuge boasts intuitive controls that allow for responsive operation, even when wearing gloves. Say goodbye to fumbling around with complicated settings - with the Frontier Multi Centrifuge, you can achieve precise results quickly and effortlessly.

Versatility is another crucial aspect of the Frontier Multi Centrifuge. It can accommodate standard 50ml and 15ml tubes, including common blood tubes. Need to work with smaller sample sizes? No problem. With accessories, the rotors can be adapted for sizes as small as 1.5ml. This centrifuge truly adapts to your specific needs, making it an indispensable tool in your lab.

Space-saving design is also a significant advantage of the Frontier Multi Centrifuge. Despite its impressive capabilities, this centrifuge is compact and will not take up valuable space on your lab bench. By enclosing all its functionalities within a small footprint, it allows you to maximize your workspace without compromising on performance.

Additionally, the Frontier Multi Centrifuge features an easy installation design, ensuring that you can start using it right away without any hassle. Its brushless, quiet motor guarantees smooth and quiet operation, minimizing disruptions in your lab environment.

Whether you need it for centrifugation or any other application, the Ohaus Frontier 5000 Series Multi Centrifuge is your go-to solution. With its LCD and backlight for easy reading, AC power operation for convenience, and reliable construction, this centrifuge ticks all the boxes.

Invest in the Ohaus Frontier 5000 Series Multi Centrifuge and unlock a new level of efficiency and precision in your lab. Please don't settle for anything less than the best regarding your laboratory balances.
Choose Ohaus for unmatched quality and performance.