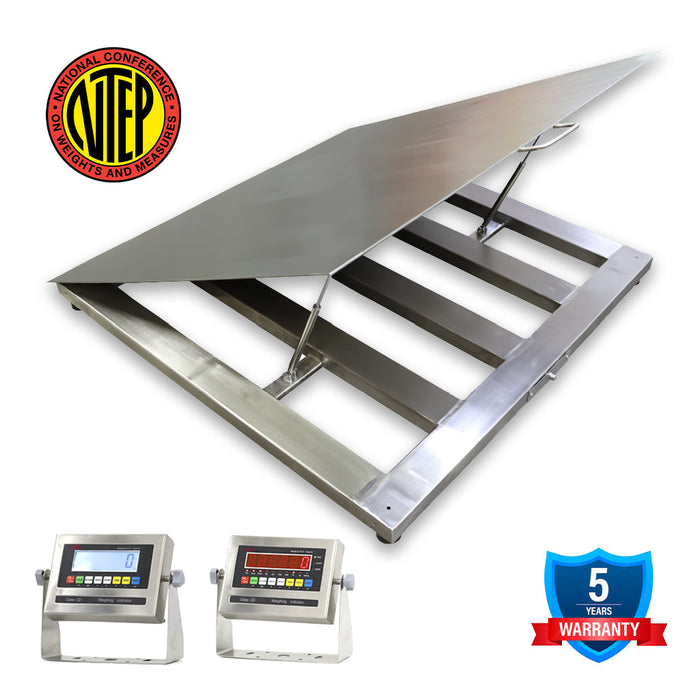 Liberty LS-800-SS-LT-5X7 NTEP Certified (Legal For Trade) Lift Up Washdown Floor Scale | 60" x 84" | Capacity of 1,000 lbs, 2,500 lbs, 5,000 lbs, 10,000 lbs & 20,000 lbs
Original price
$3,450.00
-
Original price
$3,450.00
Introducing the Liberty LS-800-SS-LT-5X7 NTEP Certified Lift Up Washdown Floor Scale, a heavy-duty stainless steel marvel designed to streamline your weighing processes. This scale is a game-changer for businesses needing a reliable and efficient solution.

Key Features:
This floor scale is constructed with robust stainless steel and is built to withstand the toughest environments. Its NTEP Washdown lift-up feature allows easy lifting of the diamond-plated or smooth top platform, making it a breeze to clean the heavy-duty deck. No more struggle with tedious cleaning routines - lift, wash, and return to business.
The LS-7510 stainless steel indicator accompanying this scale provides accurate measurements in both pounds and kilograms, ensuring you have precise data at your fingertips.
With a rechargeable battery, you can take your weighing operations anywhere without worrying about power outlets.
The built-in RS-232 communication port allows seamless data transfer, making integration with your existing systems a breeze.
Measuring 60" x 84", this scale offers ample space for large objects, making it ideal for manufacturing, agriculture, and logistics industries. Whether you choose to install it in a pit or above ground, the stainless steel gas spring shocks ensure stability and durability.
Rest easy knowing that this floor scale comes with overload protection and is factory-calibrated for accuracy, saving you time and effort. And with its impressive 5-year warranty, you can trust that the Liberty LS-800-SS-LT-5X7 will be a dependable companion for years.
Shipping Policy:
We offer free shipping for business addresses within the contiguous 48 states. For residential delivery, a small additional fee of $100 applies. Lift gate services are also available for easy unloading, with an optional $50 charge if no forklift is available. People from Hawaii & Alaska can Contact us for personalized Shipping Quotes. Your satisfaction is our Top Priority! Kindly provide your contact number and company name for business purchases.

Invest in the Liberty LS-800-SS-LT-5X7 NTEP Certified Lift Up Washdown Floor Scale today and experience the convenience and efficiency that come with owning a top-of-the-line stainless steel floor scale.