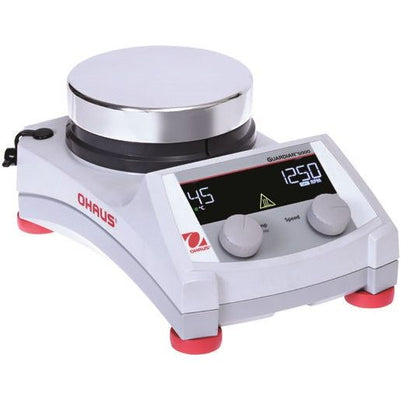 Analog Hotplate Stirrers Guardian 2000 E-G21ST07C 230V 50Hz
Original price
$280.00
-
Original price
$280.00
Introducing the Analog Hotplate Stirrers Guardian 2000 E-G21ST07C 230V 50Hz - a powerful and versatile heating and stirring solution for your lab.

With its model number G21ST07C, this hotplate stirrer offers an unbeatable combination of efficient stirring and rapid heating, all at an economical price point. Whether you need to heat up liquids or prepare samples and solutions, this device is designed to meet your everyday lab needs with ease.

Durability is a key feature of the Analog Hotplate Stirrers Guardian 2000 E-G21ST07C. Its rugged metal housing ensures a long lifetime, even under harsh conditions. The spill-resistant design adds an extra layer of protection, making it perfect for busy labs where accidents can happen. The smooth ceramic top plate is not only chemical-resistant but also incredibly easy to clean, saving you valuable time and effort.

Safety is always a top priority, and this hotplate stirrer takes it seriously. The prominent hot top indicator light keeps you informed at all times. As soon as the heater reaches a temperature above 40°C, the light illuminates, reminding you to exercise caution during your heating applications. This thoughtful feature ensures you can work confidently and securely in your lab environment.

The Analog Hotplate Stirrers Guardian 2000 E-G21ST07C offers impressive performance specifications. With a stirring speed of up to 1600 rpm and a temperature range of up to 500°C (ceramic top) or 380°C (ceramic-coated stainless steel top), it can handle even demanding tasks with ease. The package includes a power cord for convenient setup, and stirring models come with a PTFE-coated stir bar for efficient mixing.

Featuring an intuitive knob control system, operating this hotplate stirrer is a breeze. Turn the knob to adjust the stirring speed or temperature according to your requirements. The clear green indicator lights up when the unit is heating and stirring, providing visual feedback on its current status.

The Analog Hotplate Stirrers Guardian 2000 E-G21ST07C is your reliable lab companion for boiling liquids, sample preparation, dissolving buffers and reagents, media preparation, and sample concentration. Its durable construction, user-centric design features, and focus on safety make it an excellent choice for any laboratory setting.
Invest in this hotplate stirrer today and experience efficient heating and stirring like never before.