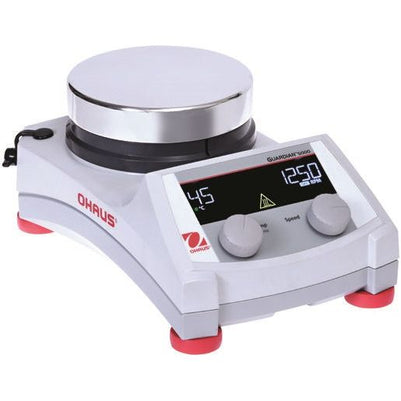 Analog Hotplate Stirrers Guardian 2000 E-G21HP07C 115V
Original price
$275.00
-
Original price
$275.00
Introducing the Analog Hotplate Stirrer Guardian 2000 E-G21HP07C 115V, a robust and reliable lab companion that combines efficient stirring and fast heating at an unbeatable price.
With its user-friendly knob control, this hotplate stirrer allows easy and precise temperature and stirring speed adjustments, making it the perfect choice for everyday lab heating and stirring tasks.

Durability is at the core of this hotplate stirrer's design. Encased in a rugged metal housing, it is built to withstand harsh lab conditions and provide long-lasting performance. The spill-resistant design ensures that accidental spills won't compromise its functionality. Plus, the smooth ceramic top plate resists chemicals and offers effortless cleanup, saving you time and effort.

Safety is a top priority with the Analog Hotplate Stirrer Guardian 2000 E-G21HP07C. The prominent hot top indicator light is a visual reminder, illuminating when the heater reaches temperatures above 40°C. This feature ensures the safety of the user during all heating applications.

With a maximum temperature of 500°C (ceramic top) or 380°C (ceramic-coated stainless steel top), this hotplate stirrer is versatile enough to handle various heating requirements. Whether you need to boil liquids, prepare samples and solutions, dissolve buffers and reagents, prepare media, or concentrate samples, this device covers you.

Operating this hotplate stirrer is a breeze thanks to its simple knob control. Adjusting stirring speeds up to 1600 rpm or setting the desired temperature is intuitive and hassle-free. The package includes a power cord and a PTFE-coated stir bar for convenience.

The Analog Hotplate Stirrer Guardian 2000 E-G21HP07C features a durable construction with a PET front panel, control knobs, an ON/OFF switch for heater disconnect, and a built-in support rod holder. The easy-to-clean resin, ceramic, or ceramic-coated stainless steel tops ensure a hassle-free maintenance experience.

Experience peace of mind with the hot top indicator light that protects the user and the green indicator lights that illuminate when the unit is heating and stirring.
With its unbeatable combination of power, durability, safety features, and ease of use, the Analog Hotplate Stirrer Guardian 2000 E-G21HP07C is a must-have for any lab seeking reliable heating and stirring solutions.