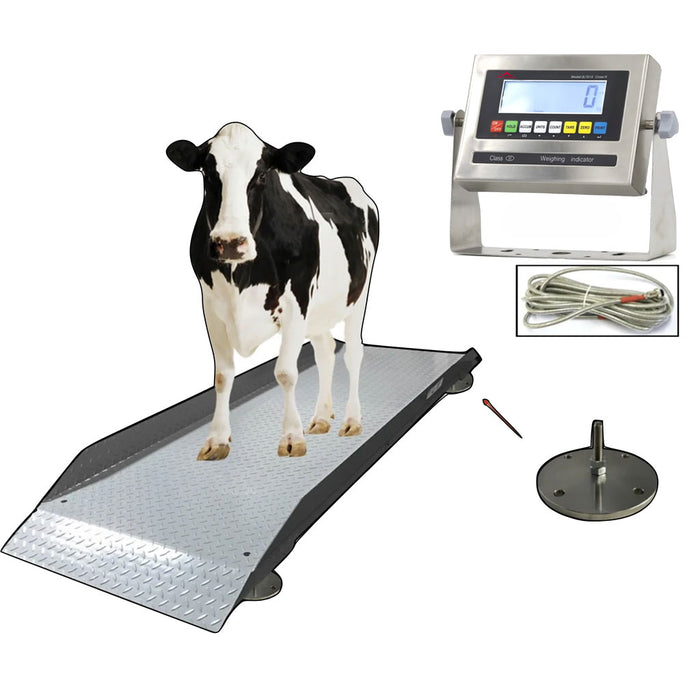 Liberty LS-929 Livestock & Cattle Alleyway Scale 5000 lbs x 1 lb
Save

$1,200.00
Save

$1,200.00
Original price
$2,599.00
-
Original price
$2,599.00
Introducing the Liberty LS-929 Livestock & Cattle Alleyway Scale, the perfect solution for accurate and efficient animal weighing.
This heavy-duty scale is designed to accommodate most animals, making it an essential tool for any agricultural operation.
Key Features:
Measuring 85" x 26" x 5", the large platform of this scale allows for a complete livestock alleyway, ensuring ease of use and minimizing stress on the animals.
The tread plate surface provides excellent traction and stability, ensuring the safety of both the animals and the handlers.
Equipped with motion sensing technology, this scale guarantees precise weight measurements. Say goodbye to guesswork and unreliable readings. With the Liberty LS-929, you can trust that your animals' weights will be accurately recorded.
The scale comes with a durable metal shielded cable that extends up to 20 feet, providing flexibility in setup and allowing you to position the display wherever is most convenient for you.
The built-in 4" ramps and 1 3/4" high side rails make it effortless to guide animals onto the platform, while the NEMA 4 washdown stainless steel LCD display ensures clarity and durability even in challenging environments.
With a rechargeable battery that lasts up to 100 hours and an AC/DC adapter included, you can use this scale anywhere without worrying about power sources.
The NEMA 4 stainless steel junction box adds an extra layer of protection to safeguard its inner components.
Rest assured, this Liberty scale is made to last. It comes with a generous 5-year warranty, guaranteeing its quality and reliability for years to come.
Whether you're a rancher, farmer, or veterinarian, the Liberty LS-929 Livestock & Cattle Alleyway Scale is an indispensable tool for accurately weighing your animals. Invest in this portable floor scale today and experience convenience, efficiency, and peace of mind like never before.
Shipping Policy:

We offer free shipping for business addresses within the contiguous 48 states. For residential delivery, a small additional fee of $100 applies. Lift gate services are also available for easy unloading, with an optional $50 charge if no forklift is available. People from Hawaii & Alaska can Contact us for personalized Shipping Quotes. Your satisfaction is our Top Priority! Kindly provide your contact number and company name for business purchases.